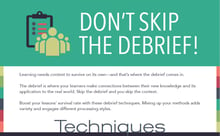 Debriefing is where the real learning takes place. It's where the proverbial "rubber meets the road," because it allows for reflection and also starts to instill a sense of accountability in the learners.

This infographic will help you understand debrief techniques so your learners make connections between their new knowledge and its application to the real world.
To download the infographic, Don't Skip the Debrief! please click the button below, complete the form and click on the Submit button.