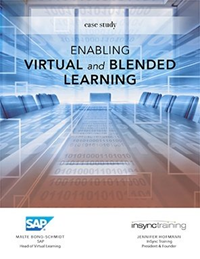 For three years now, InSync Training and SAP have partnered on virtual live learning design and delivery, making virtual learning an integral part of the blended learning programs at SAP.
During this partnership, a focused strategy was designed, intensified over time, and implemented to transform SAP's traditional learning approach, expanding it into a modern, engaging, virtual and blended learning strategy.
Based on comprehensive needs analysis using a Design Thinking approach, SAP and InSync Training determined that with a structured and purposeful strategy, common blended and virtual learning challenges would be managed and mitigated.
Using industry best practices and a multi-tier approach, common challenges were resolved, and SAP's program goals for both the organization and the learners were exceeded.
This case study outlines the entire process and discusses its universal applicability.
To receive your complimentary copy of this case study, please complete the form on the right and click on the 'Submit' button