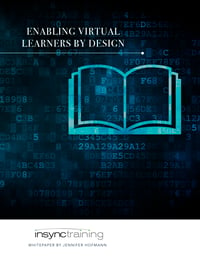 We all know that the use of virtual classrooms, e-learning, and blended learning has gone beyond a trend to become an accepted and permanent part of the learning mix. It's hard to find a subject that isn't, in some form and at some level, taught online.



With so much content and technology readily available, why don't people seem to be learning more?

And why are so many people being forced to learn online at (metaphorical) gunpoint?

The information presented in this whitepaper will help you to understand why this happens and, more importantly, how to implement five critical elements that will set your learners up for success.

To receive your complimentary copy of Enabling Virtual Learners by Design, please complete the form.