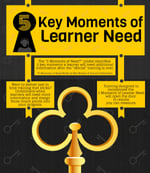 The "Five Moments of Need" model by Bob Mosher and Conrad Gotffredson identifies 5 key moments a learner will need additional information after the "official" training is over.
Training designed to incorporate this model will open the door to results you can measure. This infographic will help you to design and deliver just in time training that sticks.
To download the infographic, 5 Key Moments of Learner Need, please complete the form and click on the Submit button.