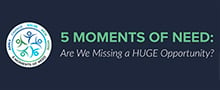 Every day L&D is being pressured more and more to show an ROI, or Return on Investment, for the dollars spent in "training."
Designing for the 5 Moments of Need can help us move into the workflow and measure impact in ways training alone can never do.
It also has a profound effect on training events, often reducing them by up to half the time needed, while making them even more impactful.

Based on Bob Mosher's Virtually There session, 5 Moments of Need Are We Missing a HUGE Opportunity?, this infographic will show you how to be a change agent for your organization and transform your learning, boost performance, and cultivate self-reliant, highly engaged learners.
To download the infographic, please complete the form and click on Submit.