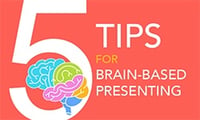 Think about your day-to-day role. Do you host meetings? Facilitate training? Give presentations?
Whether you run these events or not, they represent an important part of our professional lives. Often, we see these events as time wasters, rather than important investments of our focus.
Brain-Based Basics
In order to capture the attention of others, we need to understand how our brains work. Most simply put, our brains create and look for patterns in information and when completing tasks in order to speed up learning and maximize brain space. When teaching others, we need to support these patterns.
Based on Sharon Bowman's Virtually There session, Brain-Based Presenting: Getting the Brain to Pay Attention, this infographic offers five important tips to make sure your presentation supports how people really learn.