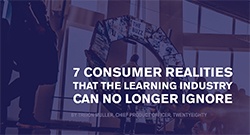 Taking into account our intended audience—the solution or skill set they are seeking, their real work environment, their learning opportunities — what will they consume?
Not what do we think they should consume, but what will they in actuality do?
This infographic, based on the Virtually There session 7 Consumer Realities That Impact Learning and Development, will help you be more aware of the consumer's desires and work to find innovative ways to bridge the gap between current state and ideal state.
Today, the consumer, and not content, is king. So, take a good long look at how you are conducting training now, and start finding new ways to meet the needs of your king moving forward.
To download the infographic, 7 Consumer Realities That the Learning Industry Can No Longer Ignore, please complete the form and click on the Submit button.