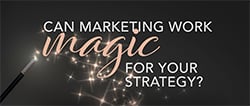 Research shows that most training professionals strive to improve learner engagement in their programs - BUT only 15% actually work on pre-event promotion.
Marketing, learning, and advertising expert Amy George shares three tricks learning can pull from Marketing's Magic Hat to improve learner interest before training even begins.
This infographic defines these three magic tricks and helps you quickly and easily incorporate them into your training strategy.
To download the infographic, please complete the form and click on Submit.