Blended Learning requires a variety of instructional delivery media to achieve a particular outcome. How do you decide what goes into the blender to create the perfect blend? How do you know when to use classroom, e-learning, virtual classroom, mobile and social technologies, or one of the other instructional techniques as part of your blend?
Research into the effects of the learning environment has shown that selecting the proper delivery media can have a profound effect on the learner experience and outcome.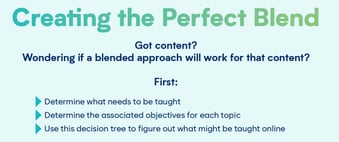 Organizations are faced with a variety of delivery options, but do not have the experience to make informed choices. Instead of focusing on outcomes, the uninformed tend to focus on cost and ease of use. In the long term, an inappropriate media choice can cost much more.
This infographic Creating the Perfect Blend provides you with a decision tree to help you determine what delivery technology best fits with a desired learning outcome.
Be sure none of your learners are left behind - Become an expert and learn how to design, facilitate, and support the hybrid virtual learning environment to meet the needs of all learners. Click below to register for our Hybrid Virtual Training Course.