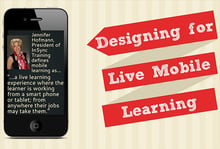 Mobile Learning, also known as mLearning, is on the rise!
But in the rush to deploy content quickly and make it accessible from wherever the learners are, we aren't giving enough thought to what exactly should be taught and how to most effectively deliver that content.
This infographic will help you decide whether mLearning is an appropriate delivery choice for your content and includes recommendations from Jennifer Hofmann, President of InSync Training.
To download the infographic, please fill out the form on the right and click "Download."
For additional information, you might be interested in the following resources: