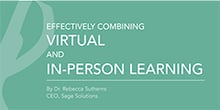 When done well, blending virtual and in-person delivery has the potential to enhance accessibility and depth of understanding.
Done poorly, it can undermine effective learning.
Based on Dr. Rebecca Sutherns' Virtually There session, Effectively Combining Virtual and In-Person Learning, this infographic explores the evolution of learning delivery and discusses how in-person and virtual delivery can be mutually reinforcing.
It also provides the elements to include that will increase the likelihood of success in your blended program.
To download the infographic, please complete the form and click on Submit.