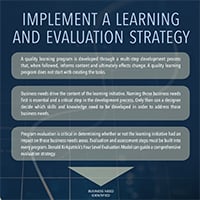 Creating content is only half of the learning development story. The other half is developing a plan for evaluating the learning.
This requires crafting tools used to gather feedback that informs whether learners actually learned, as well as to determine to what extent learners apply what they learned in the workplace.
An evaluation should also include on-the-job feedback as learners use newly-acquired skills

This infographic describes how you can use Donald Kirkpatrick's Four Level Evaluation Model to guide a comprehensive evaluation strategy.
To download the infographic, please complete the form and click on Submit.