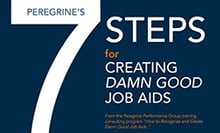 Learning and performance improvement professionals have an overwhelmingly large bag of tricks these days. And as a result, in many cases, we've become Jacks and Jills of many trades and masters of none (or at least few).
This infographic will provide insight into how to create one of the most useful tools in our collective performance-improvement bag – the job-aid.
Based on Russ Powell and Joe Halpin's Virtually There session, How to Recognize and Create Damn Good Job Aids, this infographic offers seven steps to follow when creating effective job aids.
To download the infographic, Peregrine's 7 Steps for Creating Damn Good Job Aids, please complete the form and click on the Submit button.