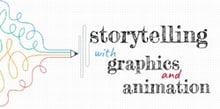 Ever wondered how to create great visuals and animations?
Recently, Virtually There guest speakers Enzo Silva and Kate Tronvig answered this question and provided some ideas on how to get started with graphics and animations.
All you need is a story, and you're ready to create simple yet effective visuals and animations without knowing how to draw or animate.
This infographic, based on their recent Virtually There session, You May Not Be Walt Disney, But You CAN Draw and Animate, will help you get started converting those stories into effective visuals and animations.
To download the infographic, please complete the form to the right and click on Download.
To view the BYTE session recording, click here.