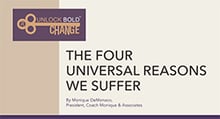 Everyone will make important changes in their lives. Does the process of evolving have to be painful?
Emotional Intelligence expert Monique DeMonaco believes that change can be transformative, not terrifying.
Her proven coaching approaches allow people to communicate effectively, better adapt to change, and improve their leadership skills, goal-setting processes, and self-awareness.
This infographic explores the mindsets and hangups that prevent us from unlocking bold change in our personal and professional lives.
To download the infographic, please complete the form and click on Submit.