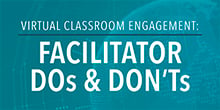 As a facilitator, you have a great deal of control over environmental, intellectual and emotional engagement for learners.
The goal for any facilitator is to establish and maintain an environment where learners will engage with the learning experience by optimizing the development factor in each learner.
Based on Jennifer Hofmann and Karen Vieth's Virtually There session, Creating Engagement in the Virtual Classroom: Advanced Facilitation Skills for the Experienced Training Professional, this infographic will provide some examples of how to (and perhaps as importantly, how not to) cultivate learner engagement.
To download the infographic, please complete the form and click on Submit.