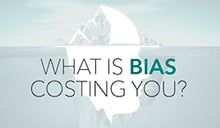 BIAS – we all have it whether we are aware of it or not.
But are you aware of the biases people may have about you and what it may costing you in your business? If you could identify your bias more quickly, would it help you improve professionally?
Based on the Virtually There session, Beyond Diversity: How BIAS Could be Making or Breaking Your Business, with Christine Miles, M.S. Ed of Philadelphia-based Company, this infographic will help you determine what bias is costing you in your business.
To download the infographic, complete the form and click on Download.