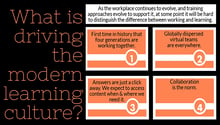 The modern learning culture is about more than technology – it's about the workforce becoming more global, mobile and social.
Training professionals need to recognize the influence that culture plays in the classroom. This infographic, based on Jennifer Hofmann's BYTE session, The Modern Learning Culture - What Makes It Tick? helps instructional designers and facilitators navigate the modern classroom and best support its learners.
To download the infographic, complete the form to the right and click on Download.
For additional information, you might be interested in the following resources: