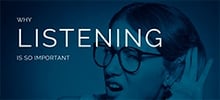 Learning to be a curious detective to uncover the real story of your customers' business struggles is key to making an emotional connection and driving value to win.
You can make the complex and difficult skill of listening simple by learning how to be curious with six simple questions.
These questions help deepen relationships and create value by fostering co-innovation, to drive business value together and not just a sale.
Based on Christine Miles' Virtually There session, Curiosity Sells: Stop Selling and Get Your Buyer's Real Story, this infographic offers insight into why listening is so important.
To download the infographic, Why Listening Is So Important, please complete the form and click on the Submit button.