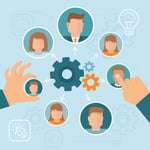 Our InSync in Action series includes videos filmed during our live, in-person learning events. This video was shot on location during our 2016 Training Magazine Conference pre-conference certificate program, "Designing and Delivering the Modern Virtual Classroom."
In this video, our lead online facilitator, Karen Vieth, shares an approach for creating learner engagement during live virtual learning events.
To view the video, click here:
To learn more about this topic, and others related to successful virtual training, visit our blog.