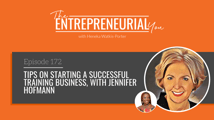 With over 20 years in the online training business, Jennifer has been ahead of the game and has garnered so much experience which makes her a leader in this area. This episode of The Entrepreneurial You Podcast couldn't be more relevant to the times we are now experiencing.
To listen to the podcast, click below.
To receive our newsletter highlighting our products, services, and upcoming events, fill out the form on the right and click on Sign Up.