June 22, 2021
InSync Training Instructor: Michael Osborne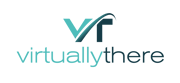 About the Session:
In an increasingly virtual world, how can virtual learning designers ensure their programs and content are truly accessible for everyone?
Discover the practical steps to creating learning experiences for all while adopting an inclusive mindset and approach to learning design - especially areas we might be neglecting as we move more and more content online in response to the ongoing pandemic.
Discussion will include:
Actionable steps with practical advice on where to get started

The common pitfalls in creating inclusive experiences

Examples of what works well (and what to avoid)
To view the recording, complete the form on the right and click on the Submit button.