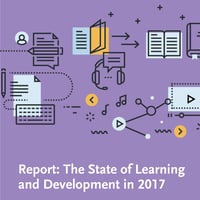 We're experiencing a period of evolution in learning right now. Thanks to the digital revolution, our organizations, our learners, and our jobs have changed dramatically. Confusingly, though, classrooms remain strikingly similar to those we learned in over 20 years ago. We know traditional approaches like multi-day workshops don't build skills efficiently. But our organizations change slowly, and prefer to operate in ways that worked in the past.


Before we can make a plan and move forward, we first need to understand the current state of learning and development. Mimeo and InSync Training joined forces to find answers.
Consisting of industry research received through survey responses of 459 L&D professionals, this joint State of Learning and Development 2017 report shares key information that we learned from you, modern learning practitioners, and provides guidance for using this information to take informed next steps.
To receive your complimentary copy of this report, please complete the form and click on the Submit button.