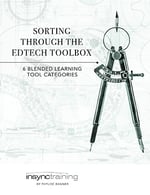 We keep saying that technology is just a tool, but what do we really mean? I have a full toolbox out in the garage, but I have to admit that I've used a shoe to hammer a nail into the wall on more than one occasion.
Are we using the right tools to design, develop, deliver, facilitate, produce, and curate learning? Or, are we using our shoes, staplers, or anything sturdy enough that we have on hand to get the job done?
In the end, does it really matter?