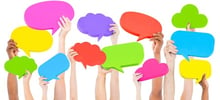 InSync Training's interview series "Teach Us One Thing" provides learning industry experts with a platform to share the one idea they believe training professionals need to know.
Conducted virtually and onsite at industry conferences, the series will regularly update with new top-tier advice.
"Slack is a tool not specific to learning and development, but with all of the features and functionality it offers, it's perfectly positioned to support L&D."
Myra Travin, Educational Futurist, UNIVentures, Inc. and Mark Sheppard, Senior Learning & Development Practitioner, Slack EduRooms
Social elements in learning programs are must-haves. Myra Travin and Mark Sheppard, co-presenters at Training Magazine's 2016 Online Learning Conference, explain how Slack Communities can create that much-needed social interaction to your next program.

To view the video, click here: