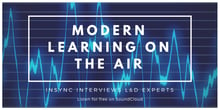 Training and Development is facing a fantastic future, thanks to the globalization, socialization, and mobilization of modern learners. Add to this ever-evolving EdTech and the growing expectations on training to improve performance, and it's a recipe for a complex and complicated landscape.
Taking all this into consideration, many of us find ourselves asking, "How do we prepare for this new reality?"
Listen in as Jennifer Hofmann, President of InSync Training, chats with learning experience architect, Phylise Banner, on Modern Learning on the Air. During this enlightening podcast, these two experts explore the importance of personalization in training, a dual Push-Pull learning approach, supporting all the moments of learner need, and finding ways to meet our own learning needs.
To listen to the podcast, click below.
To receive our newsletter highlighting our products, services, and upcoming events, fill out the form on the right and click on Sign Up.