What's the Formula for Going Global?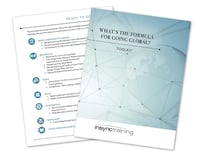 A well-trained workforce drives success in today's business climate. As the workforce becomes more global, mobile, and reliant on instant information, engaging modern learners while meeting business goals generates a unique set of challenges. Practical techniques and tools can assist you in meeting these hurdles.
Trans-national corporations, governmental agencies, and NGOs typically have extensive professional development and regulatory compliance mandates for implementing workforce training. Operating across borders creates complications and provides organizational benefits that require careful consideration.
Based on Jennifer Hofmann's Virtually There session, Implementing a Training Program Across a Global Organization: A Practical Guide, this toolkit will provide you with a list of resources to get you started with going global with your learning programs.