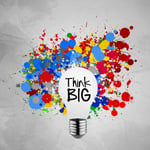 Ready to design more effective, engaging blended learning? You need Perpetual Learning Design, an approach that combines activities, resources, and lessons into a personal learning pathway.
We're not just designing courses anymore. We're designing experiences that support learners all of their formal and informal moments of learning need. This means recognizing that each learner has a unique path to follow and supporting them along the journey every step of the way. That's what InSync's Perpetual Learning Design Model is all about.
This modern approach to blended learning design meets the needs of learners no matter what their learning environment.
To watch the video, click below.