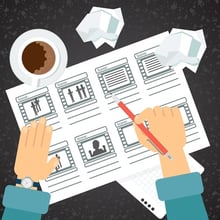 eLearning has been part of most instructional designer's toolkits for a while now.
Instructional designers have been using tools like GoAnimate and Camtasia to produce exceptional elearning modules quickly and easily.
However, using these technical tools isn't always as easy as they sound and just having access to them doesn't mean the creation process is always easy.
So what is the secret weapon that can be used to design exceptional eLearning modules? Storyboarding!
Donna Designer helps Stan-the-Fairly-New-Design-Man understand what a storyboard is and how to create one. Watch as Stan and Donna discuss storyboarding and how it can be used in the instructional design process.
To watch the video, click on the image below.