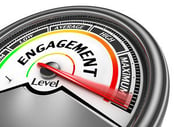 We frequently use the term 'learner engagement' in corporate learning. But what does it mean?
In the traditional face-to-face classroom, instructors can literally see whether a participant has disconnected from the content or is invested in the program. When we move learning online, those standard indicators of engagement disappear with the lack of eye contact, body language, and subtle non-verbal cues. Instructors need to leverage virtual tools and their intuition to understand whether virtual learners are engaged. A theoretical understanding of learner engagement also helps!
Exclusive research by the InSync Training team has established a three-part definition of learner engagement. When applied to facilitation and instructional design, it radically improves not only the learner experience, but the outcome, of modern blended learning programs.
To watch the video, click below.
To receive our newsletter highlighting our products, services, and upcoming events, fill out the form on the right and click on Sign Up.