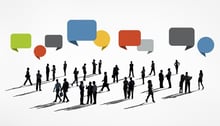 Breakout rooms allow groups of two or more participants to meet and collaborate during a larger live online session. Breakout rooms can be used to create interaction and collaboration by making your content more learner-centered.
Include this feature in your virtual classroom instructional designs, and participants will not only meet and collaborate with other participants, but they'll also be more engaged.
This video discusses how to best use breakout rooms in the virtual classroom.
To view the video, simply click the below preview:
For additional information, please download our complimentary whitepaper, Virtual Classroom Tool Design Basics: A Virtual Engagement Primer.