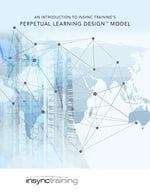 Today's modern learning landscape calls for modern blended learning design. We aren't designing courses anymore, we are designing experiences that support the learner in all their formal and informal moments of learning need.
This means modern design is about more than learning objectives. We need to think about where our learners are going to be when they are accessing content, what they are doing when they are accessing that content, and what level of expertise they need in that moment.
To download the whitepaper, An Introduction to InSync Training's Perpetual Learning Design Model, please complete the form and click on the Submit button.