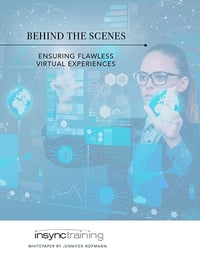 Flawless virtual events don't just happen – they take careful planning, preparation and practice.
And because the modern classroom has evolved, we as practitioners no longer design, facilitate, and manage stand-alone events.
Everything we do has become part of a learning experience.
In this whitepaper, written by Jennifer Hofmann, we will explore what goes into making virtual learning experiences flawless and well-received by our audiences time after time.
To download the whitepaper, Behind the Scenes: Ensuring Flawless Virtual Experiences, please complete the form and click on the Submit button.