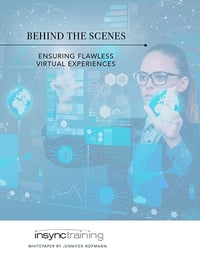 Flawless virtual events don't just happen – they take careful planning, preparation and practice.
And because the modern classroom has evolved, we as practitioners no longer design, facilitate, and manage stand-alone events.
Everything we do has become part of a learning experience.
In this whitepaper, written by Jennifer Hofmann, we will explore what goes into making virtual learning experiences flawless and well-received by our audiences time after time. With tips applicable to webinars, virtual classroom sessions, comprehensive live online programs, and balanced blends, you will discover advice that will literally change the way you manager virtual classroom.
To download the whitepaper, Behind the Scenes: Ensuring Flawless Virtual Experiences, please complete the form on the right and click on the 'Submit' button.