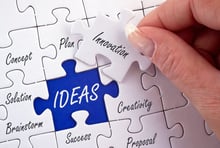 What do you call training that connects people remotely into a web session? Within L&D, and even within the same organization, the title for this kind of learning experience varies. Commonly, though, when instructors facilitate to two types of audiences simultaneously, you often hear the term "multi-method delivery."
In today's global, mobile, social workplace, training often supports dispersed learners, all of whom have individual learning goals and attendance requirements. When used correctly, multi-method delivery creates an opportunity to support them all.
Experts identify three unique types of multi-method delivery, each with its own benefits and challenges. Selecting the most appropriate type and incorporating it into your modern blended learning program creates a more supportive environment for your target audience.
Scenario One: Dual Classrooms
The first multi-method delivery scenario involves two traditional classrooms. Each classroom includes participants grouped together, and the rooms themselves connect to a virtual learning platform like Adobe Connect or Webex Training Center. In this model, some kind of an audio system allows communication between the two rooms. Facilitators wear lapel mics and the rooms include hanging microphones.
Each room usually features one-way video through projection showing wide shots of each classroom. Often, the facilitator presents from one of the two classrooms, but thanks to this technical set up, learners in another room can hear and see the instruction taking place in the other classroom.
This type of delivery provides a group of participants who may not otherwise have the opportunity to participate in live learning with an expert facilitator, to have access to this kind of instructor-led training. However, experts point out that in this arrangement, the facilitator only presents from one of the two classrooms, meaning that one group of learners does not have an in-classroom instructional lead.
Scenario Two: One Traditional Classroom + Individual Remote Learners
In the second type of multi-method delivery, you have traditional classroom learners in one room, and your remote participants are all connected individually. This means learners log-in from their individual office chairs from their home, from Starbucks, the train, or wherever they want to take the class.
This scenario differs from the first because, in this case, remote learners are disconnected from one another.
Experience shows that participants prefer one-way video with the facilitator in this learning environment. Learners often say, "You know we would like to see the engagement, see the instructor, but we really don't necessarily care if the instructor sees us." Organizations with in-house teams and telecommuters find that this model works especially well, as it allows them to train both groups simultaneously.
Scenario Three: One Traditional Classroom + Individual Remote Learners + Groups of Remote Learners
This scenario is obviously the most complex. The facilitator needs to meet the needs of the learners in the physical classroom, individual learners working from their own desks, and one or more groups of learners in a meeting room with the virtual classroom being projected.

There's a lot of work for the facilitator to ensure that learners in all of these disparate groups are engaged.
A Reminder About Facilitation
While it's an excellent option for many organizations, multi-method delivery poses facilitation challenges. Instructors and designers need to create experiences focused on active learning. When planning for learner engagement, the needs and accessibility of both groups must be considered. If the group participating from the instructor-led classroom has the opportunity to collaborate in small group exercises, remote learners need to have an equivalent opportunity through the virtual classroom platform. Any debrief hosted by the facilitator should also incorporate remote learners into the conversation.
Curious about multi-method delivery? Watch this helpful video from our YouTube channel to learn more.