Today's workforce is more global, virtual, and mobile than ever before. Learning professionals must adapt to this new culture in order to best support modern learners. Based on Jennifer Hofmann's recent BYTE presentation, The Modern Learning Culture - What Makes it Tick?, this microblog series will present ten ways that learning professionals can evolve in order to successfully navigate emerging learning culture.
This is the ninth post in the series. Click here to start with the first post.
For additional information and support, download the InSync Training infographic, What is Driving the Modern Learning Culture, and watch the recording of the BYTE presentation, The Modern Learning Culture - What Makes it Tick?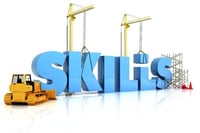 Ninth Way to Evolve with the Modern Learning Culture: Embed Learning
My ninth step to evolving with the modern learning culture is to embed learning in the flow of work.
The Case for Embedding Learning
The modern workplace culture no longer focuses on training events. Yes, we still need formal training programs to provide learners with process, as well as content context and flow. But, we also know that so much learning happens informally in the flow of work. If we consciously decide to embed learning, we can organize and stabilize that informal piece of the learning process. We can influence work flow learning so the right content and support is embedded where learners need it.
Microlearning
Microlearning deals with small learning units and short-term activities. Examples include job aids, papers, podcasts, and videos.
The growth of informal learning has led to people seeking information on their own when they need it. When people learn without guidance, a challenge arises: each learner in a group accesses and uses different content. When added to your programs, micro-learning solves this problem by facilitating consistency.
Microlearning's popularity comes from two things. First, learning professionals can curate content relevant to all learners. Second, learners can get the answers they need, when they need them, and move on. For these reasons, micro-learning is a great way to embed learning in the flow of work.
Suggestions
Embedding learning doesn't have to be difficult. In fact, we take advantage of this process in many basic day-to-day tasks already. For example, when you get a new cell phone or have to update your existing phone, you don't have to remember how to set up your voicemail message. Instead, you follow prompts which guides you in the creation of that message.
When designing a training event, think of the processes learners will need on demand. Design job aids and pull together resources like YouTube videos, infographics, and podcasts that support those requirements. During the live training event provide participants with instructions for how to access and use these resources after the training has ended.
Final Thoughts
For so long, our focus as learning professionals has been to design and facilitate formal tutorials and training programs. The modern learning culture, and our responsibilities as learning professionals, has evolved. We must help facilitate all learning no matter where or when or how it happens. By purposefully embedding learning into work, we can grow with the current culture.