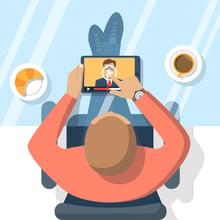 When you need to learn how to do something, where do you go for information?
I thought about this question recently when I faced a pretty standard homeownership quandary: spring recently sprung, but my front yard needed some improvement in the lush greenery department. I turned to YouTube first to find a step-by-step process for increasing the curb appeal of my house. I knew by doing research there, I'd find a quick, easy, repeatable answer to my current problem.
I'm not alone, either! Most of us turn to quick, informative videos in our daily lives when stuck on a task or project, or when curiosity strikes.
Learning experts preach the benefits of video in corporate training programs. We know they work as a medium to impart information and engage learners. Why don't we use them more?
In many ways, it comes down to perception: we believe that planning, designing, and shooting video requires a lot of time and a big budget. If the video doesn't look like a Spielberg production, we worry the quality won't meet learner expectations.
Phylise Banner, learning experience architect, knows the struggle. When she faced the limitations of budget and time, she came up with a creative solution: a low-cost video studio she sets up right in her kitchen. This approach streamlined the video-creation process and made it easy for her to incorporate expert tips and personal guidance into her blended learning programs.
She generously shared insight into her studio, tech, and approach in this helpful video: https://youtu.be/7tgt0YHXEsM
As Phylise explains, with a few proven techniques, some low-cost equipment, and a little bit of creativity, you too can create helpful learning videos for your blends.