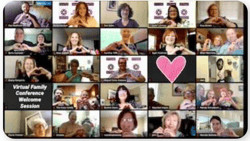 Virtual Training Company Helps Two Nonprofits Succeed with Online Events During COVID
PORTSMOUTH, NH--(May 18, 2021) - When the COVID pandemic shut down offices and quarantined us in our homes, in-person events shifted to virtual events overnight. Many organizations that had planned annual conferences and events were lost in the dark, not ever having presented an event online.
This shift especially affected non-profit organizations who had important fundraising and other annual events planned in 2020. Many non-profits had to cancel events because they lacked the skills or budget to pivot to an online environment. InSync Training to the rescue! In 2020, InSync Training stepped in and supported several non-profits to assist in producing their events in the virtual environment.
When the planning committee for the NTSAD (National Tay-Sachs & Allied Diseases Association) annual family conference realized that they were not able to meet in person due to COVID, they contacted InSync Training to help them produce the event virtually.
With the help of InSync Training, the 43rd Annual Family Conference was held virtually and seamlessly as members connected, Heart to Heart, Home to Home. "The NTSAD community-- our family of patients, parents, children, grandparents, siblings, caregivers, partners, researchers, and industry experts-- came together--providing care-giving tips, updates on research and clinical trials, and sharing their experiences and their grief," said Becky Benson, Conference and Family Services Coordinator.
The conference was the organization's largest ever with more than 500 people registered and expanded globally with 26 countries represented. The virtual event was full of fun, useful, and interactive information presented in over 20 virtual sessions.
Jim Ponder, President/CEO of Turnkey Strategic Relations LLC, a volunteer with the Rotary Youth Leadership (RYLA) organization in San Diego got in touch with InSync Training for help with a leadership program for teens called Leadership Now.
With the help of InSync Training, RYLA was able to replace the in-person leadership training weekend for 2021, offering a one-of-a-kind, intensive and highly interactive experience, featuring some of RYLA's most popular leadership speakers. This program was provided at no charge to the high school juniors and seniors and is a reward for being leaders.
"We were so proud to be able to help NTSAD and RYLA in pivoting to a virtual environment during the pandemic," said Jennifer Hofmann, president of InSync Training. "Our company sets standards for corporate live virtual and blended learning and also values the mission of creating a world that works better virtually. We were thrilled to support these two outstanding non-profit organizations to fulfill their goals as the world pivoted to online events last year."
For more information about RYLA visit https://www.ryla5340.org. Learn more about the National Tay Sachs & Allied Diseases Association at https://www.ntsad.org.
About InSync Training
Founded in 2000, InSync Training, a WBENC and WEConnect certified woman-owned small business (WOSB), sets standards for live virtual and blended learning. Widely recognized as a global innovator in new and evolving learning and professional development techniques, we create, model, and implement modern training best practices.
Website: www.insynctraining.com
Blog: www.blog.insynctraining.com
Facebook: www.facebook.com/InSyncTraining/
Twitter: www.twitter.com/insynctraining
LinkedIn: www.linkedin.com/company/insync-training/