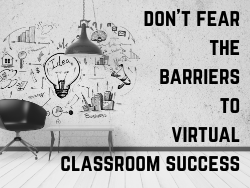 Recently, learners have flocked to the virtual classroom due to changing careers and/or continuing their professional development. Organizations have started embracing the flexibility and dynamism of this learning environment as the option for programs ranging from new-hire onboarding to informational webinars to complex technical trainings.
We believe in the power of the virtual classroom. But, truthfully, despite its varied functionality and useful tools, learners still experience a, well, learning curve when learning virtually.
To help learners – both new and experienced – adapt and thrive in the virtual classroom, our team compiled a list of obstacles to look out for and ways to preemptively overcome them.
Obstacle 1: Interruptions from a manager
Solution:
Set boundaries and expectations! In the past, managers knew when their team attended face-to-face classroom training, thanks to empty cubicles and out of office messages. Because learners can attend virtual trainings from their desks, the line between working and learning gets blurred. In some ways, it increases the authenticity of training, in others, it creates confusion logistically. Simple steps like using a shared calendar with your manager, setting up an automated email responder, and even a note on your office door clarifying your in-training status.
Obstacle 2: Interruptions from co-workers or office mates
Solution:
In traditional office settings, many colleagues pop their heads in to "ask a quick question" in the spirit of efficiency, but even a short disruption can totally derail a learner's attention. We've seen this issue compounded by the increase in remote work - and now dogs, children, and domestic partners count as office mates. Like managerial interruptions, solving the issue of a pestering coworker comes down to communication. Send an instant message, email and/or verbally share your training schedule with your co-workers to request privacy. If you can, close the door to your learning environment and hang a sign on the door. If you can't close off your space, headphones also serve as a visual reminder to those who come to chat that you are currently unavailable.
Obstacle 3: An overflowing inbox
Solution:
The virtual classroom helps employees learn critical skills on the devices they use on the job. This encourages immediate applicable learning. Instead of learning about a new sales tracking system in theory while sitting in a classroom, a sales team can walk through the technology using realistic scenarios on their own machine. But that same computer also hosts the corporate email inbox, full of incoming to-dos and important messages. To avoid getting sucked into the productivity vortex and the temptation to "answer just one note," do two things: turn off your email notification sound and only have email on a secondary device you will not use during the virtual classroom session. In the case of overcoming this obstacle, "out of sight, out of mind," works wonders.
Obstacle 4: Constantly pinged instant messages
Solution:
Slack, MS Teams, Google Chat all help teams connect virtually when face-to-face conversation requires too much time or can't happen. But, that constant inflow of banter, inquiries, problems, and solutions. Communication overload can decrease productivity under normal circumstances, and throw off focus entirely during a learning event. Similarly, to the overflowing inbox problem, two simple-steps can almost completely eliminate this type of distraction: change your status to "do not disturb" or "unavailable" and sign-out for the duration of each training lesson.
Obstacle 5: Noisy working environment
Solution:
Open concept offices and floor plans have one thing in common: lots of noise. And while they promote camaraderie and collaboration, the ruckus proves exhausting when learning virtually. Ideally, we recommend finding a different learning environment if your standard workspace tends to include a lot of background noise. But in the world of stay-at-home orders and nontraditional layouts, many learners cannot relocate. Invest in a noise canceling headset and practice muting your audio line so you won't share your extraneous ambiance with the learning environment.
Don't fear the barriers to virtual classroom success! Overcome them through communication and preparation. Learning how to learn online takes patience and practice. Soon enough, you'll be a pro at live online professional development.
Getting certified is no accident - Be intentional on the career path you want. Learning to be a Certified Virtual Learning Expert® may be the path that takes you from surviving in the virtual classroom to thriving. Click below to learn more.