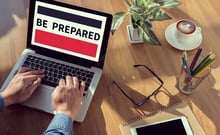 Recently InSync Training worked with a multinational software company to maximize the value of their existing learning content by transitioning it to the virtual and blended classroom.
During this process, we discovered seven specific areas that we needed to address to facilitate this transition. We believe these challenges are universal to virtual classroom and blended learning implementation. Many other organizations are undergoing this evolution, with seasoned learning professionals assisting the process.
In the spirit of the modern classroom, a learning environment defined by the accessibility of knowledge, we will detail these challenges and our approaches for overcoming them in this seven-part blog series.
To achieve the greatest understanding of virtual classroom strategy implementation challenges, begin with my first blog post, Redesigning Content for the Virtual Classroom.
Virtual Classroom Implementation Strategy Challenge 2: Preparing Facilitators
The second obstacle we faced while implementing our client's virtual classroom strategy involved reskilling the program facilitators.
The Need
One of the advantages of the virtual classroom is that it's fairly easy to implement, and relatively easy to navigate. In a time where computers are everywhere, and they enable just about every part of our work, it's almost natural to assume that the transition from classroom trainer to virtual classroom trainer is not difficult.
However, often the reverse is true.
Effective classroom trainers have developed techniques to engage learners that are largely based on proximity. Without the benefits of eye contact and body language, facilitators new to the virtual classroom often feel that their repertoire is lacking. Additionally, subject matter experts (SMEs) are often recruited to deliver webinars, without having any experience designing or facilitating a learning event.
New virtual facilitators, no matter how experienced they are in the classroom, need to learn how to rely on other senses and inputs, since they are no longer able to see participants. They also need to learn how to adjust to the different communication options available to learners within the virtual classroom, like chat, whiteboard, and feedback tools to encourage interaction and collaboration. All communication should be equivalent to speaking aloud!
As with the instructional design team, our client's classroom trainers needed to be reskilled in order to become effective at virtual training.
The Approach
The training approach focused on ensuring the facilitators were ready to teach in the virtual classroom, that they had internalized virtual classroom instruction as a valid approach, and that the surrounding organization supported them in their efforts.
We worked with their facilitators to teach them how to:
Create and maintain learner engagement
Read their learners' "body language in the bandwidth"
Work with a producer or assistant facilitator
Recover from technology fails and other live event challenges
Prepare and practice before any online learning event.
In addition, this client often used Subject Matter Experts (SMEs) to deliver content to learners. These SMEs required a different approach to become adept in the virtual classroom. As delivering training content was not a core job function, they needed to partner with someone to ensure their events were successful.
We solved this need by providing professional virtual classroom producers who maximized the SMEs' webinar events by taking an active role in managing activities and technology, as well as encouraging conversations during the session.
The Outcome
As the newly trained virtual facilitators began teaching more and more virtual lessons, the value of the training became apparent. Consequently, more facilitators started down the path to transition to the virtual classroom. We also began training internal producers so they could work with SMEs to maximize the effectiveness of their webinars and virtual training.
We continue to provide training for new facilitators and producers, and provide facilitation and production support during high volume training times.
Next Steps
My article, Virtually There: Developing Competencies of Virtual Classroom Facilitators, identifies which skills you need your facilitators to build so they can be successful in this learning environment.
Additionally, we created a blog companion infographic titled, 7 Actions to Manage & Overcome the Challenges of Implementing a Virtual Classroom Strategy. Download it for free here.
There's more to this story! Read the third installment of this blog series now: http://blog.insynctraining.com/part-3-managing-virtual-classroom-strategy-implementation-challenges
Interested in learning more about how to develop your own virtual classroom facilitation skills? Click on the graphic below to learn about our very popular course, Virtual Classroom Facilitation Mastery Series certificate.