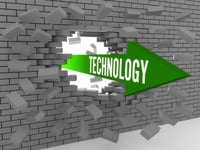 Recently InSync Training worked with a multinational software company to maximize the value of their existing learning content by transitioning it to the virtual classroom and blended learning.
During this process, we discovered seven specific areas that we needed to address to facilitate this transition. We believe these challenges are universal to virtual classroom implementation. Many other organizations are undergoing this evolution, with seasoned learning professionals assisting the process.
In the spirit of the modern classroom, a learning environment defined by the accessibility of knowledge, we will detail these challenges and our approaches for overcoming them in this seven-part blog series.
To achieve the greatest understanding of virtual classroom strategy implementation challenges, begin with my first blog post, Redesigning Content for the Virtual Classroom.
Virtual Classroom Implementation Strategy Challenge 3: Identifying & Overcoming Technology Barriers
After we redesigned existing content for a new learning environment, and reskilled our facilitators to successfully navigate the virtual classroom, the next challenge involved identifying and overcoming technology barriers.
The Need
As we've mentioned previously, one of the advantages of the virtual classroom is that it's fairly easy to implement and navigate. However, this doesn't mean technology barriers don't exist, especially within large companies. Some groups may have webcams, some may not. Some groups may not have enough bandwidth available to support live video streaming. Some individuals may work primarily on mobile devices.
It's important to understand what each group's learning environment looks like and what technologies they use (or don't use). Before committing to any delivery technologies, create a profile of target participants, including technology available, access to technical support, learning environment and training needs for that technology.
The Approach
Our client already had existing technology in place, and it was standardized across the enterprise. Because of this, we needed to prepare their facilitators and learners to best use the existing technology, and to understand the virtual learning environment. Customized learner orientations were implemented to teach the technology, and an infographic with troubleshooting tips was distributed.
We also encouraged the client not to use all of the features in the platform right away. Doing so can overwhelm both the learners and facilitators. Instead, we suggested that they allow the learners to become familiar with the basics of the environment before moving on to using advanced collaboration tools like breakout rooms. It is tempting to jump in with both feet, but when all of the users are new, a deliberate approach to new technology works best. After several hands on interactive lessons, learners become more fluent* in the virtual classroom approach.
*(Virtual Classroom Fluency: The ability to gauge the success of a virtual activity or conversation by reading digital cues and managing simultaneous conversations. This applies both to learners and facilitators.)
The Outcome
Learners have embraced the new platform and their newly trained facilitators. Reviews have been excellent. By implementing a systematic approach to implementing the new technology, the new direction for delivering training was more readily embraced.
Next Steps
To further support this blog series, we designed the infographic, 7 Actions to Manage & Overcome the Challenges of Implementing a Virtual Classroom Strategy.
This program required us to overcome additional challenges. Read more about the fourth obstacle here.