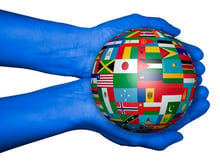 Recently InSync Training worked with a multinational software company to maximize the value of their existing learning content by transitioning it to the virtual and blended classroom.
During this process, we discovered seven specific areas that we needed to address to facilitate this transition. We believe these challenges are universal to virtual classroom implementation. Many other organizations are undergoing this evolution, with seasoned learning professionals assisting the process.
In the spirit of the modern classroom, a learning environment defined by the accessibility of knowledge, we will detail these challenges and our approaches for overcoming them in this seven-part blog series.
To achieve the greatest understanding of virtual classroom strategy implementation challenges, begin with my first blog post in the Managing Virtual Classroom Strategy Implementation Challenges series, Redesigning Content for the Virtual Classroom.
Virtual Classroom Implementation Strategy Challenge 4: Identify and Overcome Language & Cultural Barriers
The next step involved in successful virtual classroom implementation requires identifying and mitigating culture and language barriers.
The Need
Globalization, new learning technologies, and dispersed workforces have provided us with a much more diverse learner base than ever before. Fortunately, the virtual classroom paves the way for working with these global audiences more easily.
Managing class dynamics, communication issues, and cultural differences is an advanced facilitation skill, supported by informed design.
The Approach
As global audiences expand, training organizations need to develop a 'cultural intelligence' competency. To accomplish this, individuals need to:
Identify how their own cultures interact with others and affect how content is designed and delivered;
Recognize the influence culture plays in the classroom; and
Adjust existing instructional design and facilitation skills to accommodate a global audience.
To achieve this, it was necessary to adjust existing instructional design and facilitation skills to accommodate a global audience. To make language less of a barrier, we worked on designs that incorporated more reflective exercises and less lecture. The producer's job was expanded to capture key thoughts that are spoken aloud and type them into chat, to ensure understanding. Facilitators learned to moderate their pace, and to encourage participants to bring their own experiences to the classroom.
For this client, the key was to work with local contacts to help understand local concerns and then adjust the content accordingly.
The Outcome
Establishing and maintaining this cultural intelligence competency is a process that will be ongoing. New members of the training team, and new learners, will need to adjust to this state of 'new normal.'
And no individual will ever totally master this skill; every time the virtual classroom audience has a new mixture of cultural identities, the facilitator will need to adapt. By creating a foundation of understanding and awareness, the training organization was able to establish its desire to support cultural diversity.
What they learned was that individual learners appreciated the visible effort, and could be engaged as 'on the spot' coaches, which helped to set the groundwork for future programs.
Next Steps
We created a companion resource for this blog series to help illustrate these concepts. Download our new infographic, 7 Actions to Manage and Overcome Challenges of Implementing a Virtual Classroom Strategy.
Our approach didn't end with overcoming cultural barriers. Find out how else we adapted and overcame with our virtual learning strategy with part five of our series: http://blog.insynctraining.com/part-5-managing-virtual-classroom-strategy-implementation-challenges