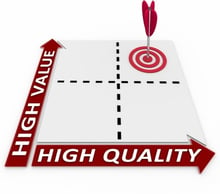 Recently InSync Training worked with a multinational software company to maximize the value of their existing learning content by transitioning it to the virtual and blended classroom.
During this process, we discovered seven specific areas that we needed to address to facilitate this transition. We believe these challenges are universal to virtual classroom implementation. Many other organizations are undergoing this evolution, with seasoned learning professionals assisting the process.
In the spirit of the modern classroom, a learning environment defined by the accessibility of knowledge, we will detail these challenges and our approaches for overcoming them in this seven-part blog series.
To achieve the greatest understanding of virtual classroom strategy implementation challenges, begin with my first blog post, Redesigning Content for the Virtual Classroom.
Virtual Classroom Implementation Strategy Challenge 6: Establish the Value of Virtual Learning
After redefining virtual learning within the organization, it was imperative that we established the value of this learning approach.
The Need
It probably doesn't surprise you that "webinars" didn't have the best reputation as a training delivery tool. Two decades of boring lectures with forced interactions resulted in reluctant learners. The format was informational at best; attendees did not expect to leave these sessions with actionable knowledge or skills.
The learners were not the only group underwhelmed with the webinar approach. Supervisors, facilitators, and really everyone didn't see the value of investing time and mental energy in live sessions when they could just review the slides and refer back to a recording at a later date.
It was obvious that the client needed to implement a campaign to introduce the organization to the new virtual learning approach. We needed to convince everyone that true transfer of knowledge and skill-based instruction can occur in a virtual setting.
The Approach
The need to reestablish the value of virtual learning is not unique to this one organization. When virtual classrooms first started gaining popularity, existing well-designed content was literally dumped online. Many organizations have had to climb out of the bad webinar hole. To be successful, we recommended a planned campaign, with the following steps:
Identify a training course that can be delivered to a large audience. The topic should be relevant to everyone, but not necessarily job critical; we want people to focus on the experience and recognize the value of virtual training. This is hard to accomplish when they are concerned about being able to do their job well.

Utilize experienced virtual classroom instructional designers to create the best learning experience possible. Don't skimp here. If you don't have virtual classroom expertise yet, consider hiring an external resource to make this first experience great. Focus on designing meaningful activities based on real work problems.

Pilot the content with a trained virtual facilitator and an audience willing to give critical feedback. Again, this is not a place to save time or money. You need to be sure that this content in this format is executed well.

Plan a marketing campaign that promotes the positive feedback and experience of the pilot learners. Send a strong message that this new approach is not the webinars that your learners are accustomed to. Don't be afraid to brag. Are your breakout rooms providing quality collaborative experiences? Are your international audiences identifying new perspectives on the content? Are your effective results better than the face-to-face format? Find ways to let future learners know that their personal investment is worth the time.

Ask for feedback and use the feedback to improve the experience. Then share what changes you made. The learners want to know that their feedback made a difference; so be sure share the fact that you listened to them as often as you can.
The Outcome
Does this sound simple? Actually it was much more complex in practice than it is on paper. It's hard to change the learning culture. It's not just changing the design of the content to take advantage of the collaborative aspects of the virtual classroom. It's not just preparing your facilitators for the virtual environment.
As this initiative rolled out, we had to refine our approach to focus on collaboration between learners, engaging the managers in the learning, and ensuring that our programs were delivered in the most authentic way possible. This makes learning experiences that are relevant and accessible, and learning becomes more meaningful to the virtual classroom attendees.
The training community is recognizing that 90 minutes supported by 100+ slides is not training. And organizations are designing impactful virtual programs. We need to let our learners know that we've made a change.
Next Steps
Our infographic, 7 Actions to Manage and Overcome Challenges of Implementing a Virtual Classroom Strategy is a visual companion to this blog series. We've made it available to our readers free of charge. To download your copy, click on the title above.