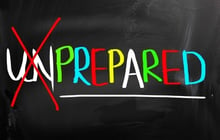 Recently InSync Training worked with a multinational software company to maximize the value of their existing learning content by transitioning it to the virtual and blended classroom.
During this process, we discovered seven specific areas that we needed to address to facilitate this transition. We believe these challenges are universal to virtual classroom implementation. Many other organizations are undergoing this evolution, with seasoned learning professionals assisting the process.
In the spirit of the modern classroom, a learning environment defined by the accessibility of knowledge, we will detail these challenges and our approaches for overcoming them in this seven-part blog series.
To achieve the greatest understanding of virtual classroom strategy implementation challenges, begin with my first blog post, Redesigning Content for the Virtual Classroom.
Virtual Classroom Implementation Strategy Challenge: Prepare Learners
The final step in this process is to prepare learners to be successful in the virtual classroom. It's not enough to have great content and highly skilled facilitators. Your learners need to know how to learn and be successful in the virtual learning environment.
The Need
Our previous steps discussed creating fantastic content and training your facilitators to be successful in the virtual classroom. That's great! But it's not enough. It's also vitally important to prepare your learning audience for this evolution from webinar events to true virtual learning.
Remember, many of our learners have only experienced passive sessions, where the only requirement was to show up and listen. In many instances that was not engaging. There would be a tendency to multitask or mentally check out completely. How do you make sure learners are ready, willing and enabled to learn in the virtual classroom?
The Approach
In order to meet these challenges, we needed to teach our client's learners how to effectively participate in the modern virtual classroom learning experience. Initially, we needed to teach them how to use the collaboration tools to successfully participate in a live, online course. They also needed to understand how to best set up their learning environment while participating.
We worked with our client to make sure that the design of each virtual program encouraged learners to do something every three to five minutes on average. This "doing something" could be something as simple as clicking on an emoticon or answering a poll. Or, it could be a complex activity like a simulation that depended on breakout rooms and small group discussions.
We also worked with them to make sure every lesson began with a very hands-on interactive activity, to set the expectation that this is an experience that includes active participation. We also suggested that they use a producer to provide technical support and be available for platform-specific questions or issues, should they arise. Additionally, we also encouraged them to end every live lesson with an activity that engaged everyone at the same time, so that learners left the experience understanding that the time spent was richer for their participation.
The Outcome
Preparing the learners, and providing continuing support throughout the learning experience, turned out to be a great investment in resources. Those learners came to sessions already understanding that the virtual learning environment would be different from the webinars they had attended in the past – and that they would be part of the experience.
In this networked world, news travels fast. Individuals came out of their first lessons pleasantly surprised about the value of the experience, and shared the experience with their colleagues.
Conclusion
The challenges this organization faced were in no way unique! As a matter of fact, they are practically ubiquitous. Ensuring content and facilitators are ready for the transition, technology and cultural barriers are managed, virtual learning is valued as 'real' learning, and that the learners are ready to go live are the critical success factors all organizations need to consider.
I wish you success with YOUR virtual classroom strategy.
Remember to download our new infographic, 7 Actions to Manage and Overcome Challenges of Implementing a Virtual Classroom Strategy.