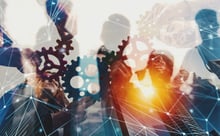 Good modern learning facilitators possess virtual classroom literacy, are technically savvy, and practice good time management skills.
All three of these characteristics contribute to a solid foundational skillset.
But taking your competencies from good to great involves an advanced approach to learner engagement, platform management, and content delivery.
Getting Started as an Advanced Facilitator: Understand the Theory
Learner engagement in the modern virtual classroom begins with the body language in the bandwidth. In traditional classroom learning environments, facilitators can literally read the room. Through eye contact and subtle visual cues, they can gauge learner interest, engagement, confusion, and collaboration. In the virtual classroom, though, the same technology that enables global learning obscures the visual indicators of trouble or success upon which facilitators depend.
Advanced facilitators find ways to see through the virtual noise using the tools available to them. This takes a great deal of energy for instructors, as it requires keeping track of learner participation, time between interactivity prompts, and balancing content delivery with application.
The theory behind building deep connections with a virtual learning audience begins before the session. Strong instructional design sets the stage. Designers can encourage learner communication every three to five minutes in a session, and help facilitators determine the basic level of learner engagement taking place at a glance.
In the execution of virtual blended learning design, advanced facilitators think through the quantity and quality of learner engagement processes.
Quantity of Learner Engagement
One simple and quick way for facilitators to read the body language in the bandwidth is to literally count the times participants respond to prompts. InSync facilitators keep a paper class roster on their desk during each session and place a tick mark next to each learner's name every time they participate or contribute. This technique helps them prompt individual learners who may have disengaged from the process.
Beyond keeping a literal tally of learner participation, understanding the quantity of learner engagement requires facilitators to consider:
How long does it take learners to complete a requested action, like write on the whiteboard or share comments in chat?
How many learners respond to each question or call-to-action?
Are there discrepancies between the number of participants in a session and the number of consistent responses?
These questions help facilitators connect the delivery of content to the learners' engagement. Keep in mind, though, that high numbers don't necessarily equate to learning. Instead, quantity measurements imply facilitators have gained learners' attention at a minimum level.
As an advanced facilitator, you understand that the quantity of responses received from learners offers a way of determining basic learning engagement levels.
Quality of Learner Engagement
Great facilitators move beyond quantity and towards quality to judge learner engagement in the virtual classroom. They think through questions like:
What is the quality of the learner contributions?
How deep do the learners' conversations go in chat, breakout rooms, etc?
Are learners adding personal experiences or relevant outside information to their input?
Skilled facilitators use the quality of learner feedback and responses to assess activity success. They ask in-depth questions and encourage learners to volunteer stories. See if you can incorporate these processes into your own facilitation practice. Remember: impactful blended training aims to connect content to real world work. Your facilitation process can help achieve that goal by creating an environment where learners feel comfortable offering thoughtful responses.
When first transitioning from the traditional classroom to the live online environment, the technology can feel like a hindrance rather than a help. But by considering and encouraging both the quantity and quality of learner participation, you, too, can read the body language in the bandwidth and connect with your audience on a deeper level.