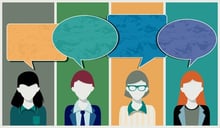 BYTE Session Recap
Cheryl Lasse, Managing Partner of SkillDirector, joined the ranks of our guest BYTE series presenters on April 5. Participants learned about overcoming Learning and Development's engagement problem, why existing solutions don't work, and an alternate approach.
This post shares highlights from Cheryl's session, including two daunting L&D trends, and a step-by-step guide to implementing personalized learning.
Daunting Trends
Cheryl kicked off her session with a discussion of recent research completed by Accenture and Deloitte. They found that two trends plague organizations today: the increasing skill gap and a lack of employee engagement. More specifically, "46% of those surveyed [by Accenture] confirmed a skill gap existed for the business" and "the lack of engagement was the top issue facing 87% of HR and business leaders."
Why do these numbers matter? Cheryl clarified that "the skill gap and engagement issues faced by leaders impact the perception of Learning and Development across the organization." For example, BYTE participants indicated that they struggle to get employees engaged in their offerings.
This perception, Cheryl pointed out, becomes reality across all levels of the organization: "employees are frustrated with their skill gaps. Managers don't think you can help. Executive leadership doesn't see you as a solution to the problem."
Solution: Personalized Learning
Cheryl believes personalized learning "increases intrinsic motivation to participate in the professional development process."
A personalized environment allows learners to become more engaged. Cheryl explained that a domino effect occurs. "When you fix learner engagement, you can impact the skill gap. If you positively impact the skill gap issue, you can impact the overall engagement issue." All of this is good news for the perception of L&D within organizations.
So how do you implement personalized learning? Cheryl recommends this three step process:
1. Develop a competency model. Cheryl clarified that a competency model "communicates the expected skill requirements for someone in a particular role." Today's employees need to adapt quickly to their roles and they want to do good work. Competency models define what "levels of proficiency separate someone who's adequate in their role and someone who's great… as well as a roadmap for getting there." Cheryl's preferred competency model development approach takes place over "about three weeks [and] incorporates four to six high performers and a manager who is involved in role." They define what skills are needed for that position and write the model in the language used on the job every day. "This allows the competency model to be in the language of the people, encouraging them to embrace and adopt it."
2. Create a learner-centric environment. Personalized learning depends upon an "environment where employees can own their own development, where they can be motivated, and where they can be inspired to see it through." The goal, Cheryl said, is "to create an environment where the learner has a voice about what they need, and a choice in how they get it."
3. Leverage technology. Cheryl made it clear that "unless you have unlimited time, money, and resources, creating a learner-centric environment can be a nearly impossible task unless you leverage technology." This doesn't just mean buying an LMS or investing in a talent management system. You want a technology that allows users to self-assess against the competency model you build, and that prevents users from getting distracted or frustrated by resources that don't support their professional development goals. Additionally, it should provide user data so managers can "coach and develop their people, instead of ranking and rating them." SkillDirector's Self-Directed Learning Engine is one such technology.
For a more in-depth explanation of each step in the personalized learning implementation process, answers to common engagement questions, and more, watch Cheryl's full BYTE recording here.