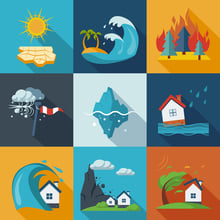 At InSync, we often talk about mitigating virtual classroom disasters with preparation and planning. With a solid plan, we can avoid most "virtual training emergencies."
Hurricane season has arrived again in North America. As monster Hurricane Ian blasts toward the Gulf Coast, we are reminded that there are indeed true emergencies that impact our families, our safety, and our livelihoods.
Teamwork is more important than ever in the wake of a natural disaster. Especially now, with so many of our team members and our client facilitators working from remote locations, it's critical to identify who might be potentially in the storm's path, and find ways to proactively support them so they can focus on what is truly important.
Safety First

First and foremost: Make sure the members of your team know it's okay to prioritize safety. The message should be: Don't stay just because you are in a session.
One of our producers shared this story:
"I was producing a session when we had a tornado warning. I had already contacted a coworker elsewhere to be a potential backup, and contacted the facilitator and told them that I was in a storm and tornado watch. When the warning came, I sent a quick message and left. I left everything sitting and hoped they managed. They did."
Her advice: If you have a warning and need to go, GO! Don't wait until the last minute. Create and communicate an emergency contingency plan. It's important that your virtual facilitators, virtual producers, and clients know that you are planning for possible interruptions in service. Make sure your learners know that an absence is allowed.
Your Virtual Classroom Natural Disaster Contingency Plan
InSync has contingency plans in place – do you? Here are a few things that might alleviate at least one stressor during emergency situations.
Proactively identify team members that might be affected and reach out to them individually with the specifics of the plan.
Coordinate with your project managers to arrange for contingencies and backups during the storm, and for several days after, just in case there's a longer-term impact. The last thing you need to worry about in the case of a disaster is who you can get to run your virtual classroom session.
Keep in mind that, just because the storm has passed, it doesn't mean people in the impacted area will be ready to go right back to work. The contingency plan should stretch for at least several days past the end of the weather event. Print out a copy of your calendar and the phone numbers of your producers, facilitators, and clients. Having all this information on your computer might not be helpful if you lose power or, in a worst-case scenario, must evacuate.
Even if you're not in the anticipated path of the storm, reach out to your virtual colleagues to see what support they may need. Talk through the messaging you might need to provide to learners faced with cancellations or substitute faculty.
Schedule "check-ins" throughout the storm. If you can't check in, your team should assume that you need backup and provide it without additional follow-up. Again, you need to focus on the well-being of your household.
If you think you might be impacted personally, I encourage you to follow the guidance of your local public safety officials. Reach out to your neighbors who might need assistance, and please don't forget any animals that might be part of their households.
For more information about staying safe in a storm, visit the Red Cross Hurricane Preparedness site.
Visit InSync Training's Services Page for the support you need to maximize virtual learning outcomes in every culture and time zone. Benefit from trusted, platform-agnostic, and tailored services delivered with proven expertise.