IACET CE/T Talks podcast premiere episode explores IACET's Strategic Partnership with InSync Training.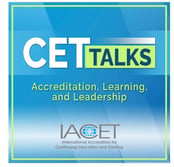 Casandra Blassingame, president and CEO of IACET and Jennifer Hofmann, founder and president of InSync, announce their new strategic partnership and what the partnership means for training managers and continuing education professionals.
Listen to this CET/Talks Podcast here.
Adult educators are needed today more than ever and there is a shortage of talent. This puts a spotlight on the need for organizations to offer quality training programs and the importance of supporting and empowering their training team to provide quality training programs - so that they never have to guess at what quality virtual training looks like.
For 15 years, InSync Training has been an IACET accredited provider. As an IACET accredited provider, InSync Training is assured that the courses and workshops they teach are sound, effective and adhere to proven quality benchmarks.
Designers, facilitators and producers who receive CEU credits for InSync Training courses and workshops have been evaluated at the highest level available within the learning and development and continuing education professions.
When virtual training teams have a platinum set of standards by which to measure, they know they are doing well, where they may need more training, and where they can go for additional training.
For more on IACET/InSync Classes, click here.
October 6, 10am – 3pm ET
Design, facilitate, and support the hybrid virtual learning environment to meet the needs of all learners. Hybrid virtual learning, made so popular during the pandemic, is perhaps the most challenging training environment. Not only do we need to intellectually engage individual learners, but we also need to anticipate and accommodate so many different scenarios!
The approach to this workshop is scenario-based. Participants will work together to develop a training plan for a hypothetical company ("Bluebird Technologies") to tackle the intricacies of their global hybrid training requirements. Issues to be addressed in the workshop will include helping individuals learn while in a classroom, office, or at home, variances in instructional experience on a variety of devices, and optimizing design and delivery for a hybrid audience.
Virtual Classroom Facilitation Fundamentals
November 3, 10am – 6pm ET
Stuck in a facilitation rut? New to delivering live online learning? This one-day immersion offers true skill building in record time.
Through application and expert instruction, you will be able to:
Support two-way communication in the virtual classroom.

Utilize commonly available virtual tools in your facilitation approach.

Manage mobile and mixed delivery learners.

Foster relationships between and with participants for improved engagement.
Virtual Classroom Design Fundamentals
December 8, 10am – 6pm ET
Discover and practice key virtual classroom instructional design skills in one day of hands-on training! In less time than a traditional learning program, you can begin creating meaningful, effective live online
learning designs. Through application and expert instruction, you will be able to:
Learn and apply our proven four step design technique to determine the best environment for each learning objective.

Better engage learners through collaboration and interaction.

Effectively leverage virtual classroom tools like chat, whiteboard, application sharing, and more.

Understand virtual classroom instructional designer core competencies.