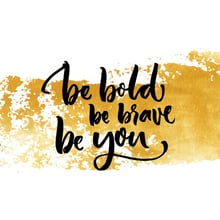 This is the second part of a blog post from our guest blogger, Susan Bassett. To view the first post, "It's Amazing What Creating Online Energy Can Do!," click here.
Passion and Courage
Love what you do. Whether you call yourself a trainer, instructor, facilitator, presenter; the nom de guerre doesn't really matter. Being a great online trainer requires soft skills and a high level of motivation to share your passion about the subject being presented.
This is the complete opposite of finding yourself online with a trainer who reads the slides and notes word for word.
Listen in on any outstanding online trainer and you will experience passion about using their energy to impact other people's lives.
With that passion, comes calculated risk that requires courage. If you want people to learn before, during, and after your online training, create a safe learning environment where risk is encouraged.
How do we capture and encourage risk-taking in the online session?
I believe that we get feedback from our learners. It's inspiring to model authentic risk and ask for learner's feedback. Call out the "elephants in the room" – even your own. The beauty of online learning is that you don't need to physically be with other people to participate in learning. No weird face gestures allowed! It's a great place to risk.
We're probably all guilty of the occasional web slip-up. Remember, no one learns without making mistakes. Quite the opposite – we learn when we make mistakes. You do not need to be the all-knowing mistake-free sage. Risk demystifying the role of the trainer as sage by asking learners for their ideas on how they would apply what's being taught. Embrace their suggestions, even if the idea is 180 degrees from what is being taught. Use the "Yes…and" if you must. Allow a bit of back and forth between learners.
Partner with Energetic Producers
My work with professionals who have trained and evolved to be certified producers continues to inspire me, and it's usually fun! Find an excellent producer to support you. There are always ebbs and flows in energy in a session. A great partnership between a producer and a trainer helps them to stay attuned to the energy level of the class. A good producer takes note of when learners are tuning out, antsy, restless, distracted or having difficulty. I prefer to create rhythms between me and the producer to keep everyone engaged – including us!
I have been fortunate to work with two incredible producers (Bev and James), both InSync Training trained and certified. They are unflappable – and they attribute this to us working hard ahead of the session to make our partnership transparent.
The best producer encourages the participants to learn from themselves leveraging or utilizing those technical bells and whistles! Working a webinar with both of these producers made the experience a joy and garnered great remarks from participants. So, if you can, find a producer who is your partner!
The idea of sharing these tips from dynamic, effective online trainers is just as important as this invitation to you:
When you deliver your next online training course,
how will you take the learning to the next level using your presence, energy and passion?