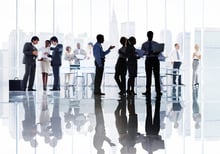 Recently, we had the privilege of sponsoring and attending Training Magazine's 2016 Conference in Orlando, Florida.
This event brings industry thought leaders and practitioners together to learn from one another, collaborate to find solutions to common challenges, and celebrate our successes.
The wisdom gained is worth sharing beyond the conference. The most important lessons we learned included the power of hands-on learning, applied deception, collaboration and curiosity, as well as two big trends we are extremely passionate about ourselves.
The Power of Hands-On Learning
Greg Gage, founder of Backyard Brains, explained the importance of neuroscience to learning. Unfortunately, according to Greg, when it comes to neuroscience, "The brain is beautiful, complex, and a mystery to the general public." Greg explained that the key lies not in complete understanding of the complexities of thought and mental processing. Instead, to move forward, whether it's in life or as learning professionals, we need to think outside of the box. Unique solutions for seemingly unsolvable problems exist and identifying them may require us to get our hands dirty.
Applied Deception
Apollo Robbins, known as the Gentleman Thief, combines training with Ocean's 11. While it sounds surprising, a con artist can help learning and performance. How? Through applied deception. A good con, Apollo explained, involves misdirecting the attention of the target. To be successful, though, the misdirection must be controlled and the target's attention managed. Apollo said to us, "If you're running the learning con in your training programs, you need to know three things: your audience's knowledge, their illusion of knowledge, and their ignorance."
As trainers, we are working with a detective audience that's using their experience to make sense of what they see. Use this to your advantage in the classroom. Remember that, "There's a direct relationship between curiosity and perception. The more questions the audience asks, the more they perceive." Constructive misdirection in training sessions encourages curiosity and perception. The last piece of advice Apollo had for us was to "Trigger the illusion of learner choice in training. The learners feel empowered when they feel they're in control."
Collaboration and Curiosity: Pixar's Magic Formula
Jay Schuster, one of the creative minds behind classic Pixar films such as Wall-E and Cars, shared that "Story is the essence of what we do at Pixar." How reassuring it was to hear that, as the same is true in training. If Pixar runs on "science, story, and design," learning can, too.
Remember that big things start with small ideas – if you invest in your modern classroom characters and story, you're on your way to engaging and creative training. Take the time to do both your homework and to reboot your brain. Like imagination, they have places in your work. Finally, Jay said, "We all need a reminder to fail forward. Don't let a misstep derail your whole journey. Learning happens in the mistakes."
Two Big Trends
During the conference, we had the opportunity to speak with learning professionals of all experience levels and with all kinds of conference goals. Despite their differences, two main themes were trending: storytelling and microlearning.
A Sincere Thank You
It was an honor to have been a sponsor for this year's conference. It provides a unique and powerful opportunity for learning professionals to connect and upskill. We send our congratulations to the Training Magazine team for their fantastic event, and look forward to next year!