I am very excited! I was just accepted into a fabulous professional development program, as a learner. It's a blended program, with two four-day onsites, 16 virtual WebEx classes, collaborative group work, and online discussions.
Sounds like a great blended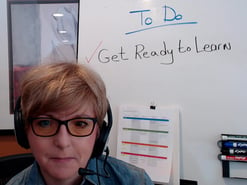 learning experience! I am especially excited that the course content is not related to the training and development field, and the audience is composed of a different set of peers. Business owners. I find it energizing to interact and learn with people that have such a diverse background.
It's also great not to be the 'expert' in the room. I conduct so many webinars and conference presentations for the learning field, I find it exhausting to be an active learner in my own space.
But it's been a very long time since I have been a learner in such an intensive learning environment, and I've got a few concerns.
Will the program keep me engaged for 10 weeks? That's a long time, and a very intense commitment of time and energy. I know how hard it can be to keep a learner engaged.
Since I am a virtual learning professional, will I be overly critical of the program design and implementation? This will be an experiment in being able to see the forest for the trees.
At the end, will I look back and decide the time was well invested? As the owner of a business that provides training services, I know that learner experience matters. Leaving the program not feeling like the time was well spent would discourage me from future personal development opportunities.
Gulp: these concerns are probably very close to those the folks enrolled in InSync's virtual classes experience!
The Experience So Far
The program is starting off on a very positive note. Some initial observations:
Since 100% participation is mandatory, the interviewing committee worked to ensure that I, as a business owner, would have time to fully participate in the onsite and online sessions, without having to drop out to manage a work 'emergency.' I was asked about who would take over my regular responsibilities and how I would manage my workload. What a great idea for an intensive blend!
After acceptance, the first communication I received was a video from the instructors, introducing themselves and setting expectations for the program, including beginning to introduce the collaboration requirements. It was not overly produced – which, to me, made the message more effective.
The next step is a technology orientation for the virtual learning environment, to ensure that WebEx (the live classroom) and Blackboard (the self-directed and collaboration space) work for all scholars. I am looking forward participating in a technology orientation as a learner!
So what's next?
I have decided I am going to treat this program as a dual-purpose learning experience. Not only learn the content (which, as I said, is not related to the online learning field) but also capture my reactions to the content, the design, the facilitators, and the interactions with my (soon to be) classmates.
I'll pay special attention to the learning environment – how does the virtual space compare to the face-to-face convenings? What was engaging? What techniques would I emulate?
I am looking forward to being a learner in an "academic" setting again. And interacting and learning from smart people that do other great things.
I am also brushing up on tips for how to be a more effective learner. My plan for success includes:
Committing to NOT multitasking through virtual lessons and assignments.
Practicing and applying what I have learned as quickly as possible, making the content more immediately relevant and preparing me for what is next.
Learning as much as I can from my fellow scholars, as well as from the instructors and the content. Everyone there will know something I don't.
All of you learning and development folks out there – what are you learning? Remember, if you are the smartest person in the room, you need to find another room!
I'll continue to blog about this journey as a learner. I hope you'll share yours!
If you are just starting your personal learning journey, click on the link below to participate in our complimentary Learn How To Learn Online Workshop.